When Innovation and Necessity Meet – The Birth of Israeli Desalination


Alexander Zarchin (1897-1988) was a Ukrainian-born Israeli engineer and passionate inventor, with many remarkable developments in chemistry and physics under his wing. After emigrating from Russia to Israel in 1947, he became one of the pioneers of seawater desalination in Israel, and was also the inventor of Vacuum Freezing Vapor Compression – or VFVC – a freeze desalination method for seawater (read more about "The Zarchin Process" below).
Collaborating with Zarchin and the US-based Fairbanks Whitney Corporation, the government of Israel established the "Desalination Plants Ltd" Company in 1961. A small R&D organization, which later became "Israel Desalination Engineering Ltd" and eventually IDE Technologies Ltd in 1965.
1963 marked the year in which the first freeze desalination process demo plant became operational in Eilat. But the plant's life proved to be short and it was shut down in 1967, soon after an imported dual-purpose MSF (Multi-Stage Flash) desalination plant began supplying water to the town's grid. Although Zarchin's freeze desalination wonder was deemed too expensive, the fruits of his developments laid the foundations for more advanced desalination technologies. IDE's Mechanical Vapor Compressor (MVC), for example, utilized the mechanical compressor originally developed for VFVC.
But despite the Eilat short-lived success, Zarchin's creative fire was far from extinguished, and among his greatest contributions was promoting seawater desalination in Israel. Even more importantly, leaving behind a highly-trained cadre of professionals, thoroughly experienced in the core of desalination process development. With this background, it was only natural that after the freeze methodology was abandoned, an intensive search for other desalination alternatives was quickly initiated. Today, Zarchin's freeze process is still utilized by IDE Technologies for other types of applications such as efficient Ice making process for mine cooling, thermal energy storage (TES) and ski resorts applications.
<< Interested in learning more? – Read Our Executive Solution Brief >>
Sidney Loeb – Making RO Available for Practical Use
We can't really address the birth of Israeli desalination without paying due respect to Sidney Loeb (1917-2008), an American-Israeli chemical engineer who quite literally revolutionized the concept of water desalination. Together with Srinivasa Sourirajan, Loeb developed semi-permeable anisotropic membranes that became available for practical use. He started teaching RO technology at the Negev Institute in 1967, later incorporated into Ben-Gurion University of the Negev (BGU), and over the following 15 years carried out abundant research and taught desalination and membrane processes to generations of young engineers. It was at BGU that Loeb invented Pressure Retarded Osmosis (PRO) and a unique method of producing power by a reverse electrodialysis heat engine (RED).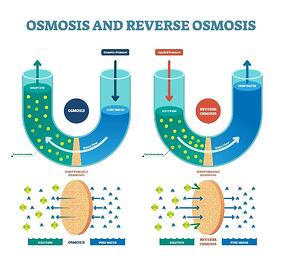 The Zarchin Process – Realizing the Vision
The Zarchin Process was the first desalination technique that was developed and implemented by the "Desalination Plants Ltd" company. This process was based on the vacuum freezing vapor compression concept (VFVC) and was implemented for seawater desalination in Eilat. Although the process is no longer used for seawater desalination today, its fundamentals and the experience gained from developing, installing and operating it – is still being applied in IDE's ice and refrigeration applications.
Freeze! The Main Principals Behind Zarchin's VFVC
Zarchin's method for Vacuum Freezing Vapor Compression process was based on several straightforward physical principals:
When saltwater is boiled – produced vapor consists of pure water, while salt is concentrated in the remaining brine
When saltwater freezes – individual ice crystals consist of pure water, coated with a thin layer of saltwater that adheres to their surface and needs to be washed
Although the boiling temperature of pure water varies according to pressure (when pressure drops – so does the boiling point), the freezing temperature of pure water remains 0°c regardless of the pressure applied
If the pressure is trooped till the triple-point-of-water of around 6 millibar, water will boil and freeze at the same temperature of 0°c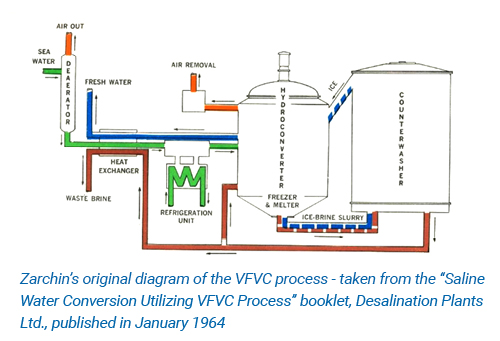 The Israeli Water Revolution – From Zero to 590M Cubic Meters in Less than a Decade
Israel's largely arid climate and lack of natural water sources led to the development of alternative water sources, and desalination was one of the key solutions to address this challenge. However, the shift from Zarchin's small plant in Eilat to the monumental desalination plants that assembled along the Israeli coastline at the turn of the 21st century – was slow.
During the 36 years of relative stillness in the local desalination landscape, IDE Technologies shifted its focus outside of Israel, but the groundwork laid by Zarchin paved the path for the company to plan and execute some of the world's most advanced seawater desalination plants, some of which still are a flagship of technological innovation.
The results of this prolific period of time were hundreds of deployments in over 40 countries, solidifying IDE's reputation of extensive expertise and practical know-how, all mixed with a healthy dose of entrepreneurial can-do approach.
Then in 1999, the Israeli government has finally decided the time has come to put its Water Security vision into practice. The process of constructing large-scale seawater desalination plants along the Israeli coastline has begun, and IDE was awarded the grand task of establishing three of the "big five":
Ashkelon was the first to be completed in 2005 with a total capacity of 369,000 m3/day (14% of the domestic water consumption in Israel)
Hadera followed in 2009 with a total capacity of 525,000 m3/day (16% of the domestic water consumption in Israel), providing high-quality water for an exceptionally low cost
Sorek was completed in 2013 with a total capacity of 624,000 m3/day (20% of the domestic water consumption in Israel). Sorek set an industry milestone when it won "Desalination Plant of the Year 2014", and to this day, it still is considered the world's largest SWRO plant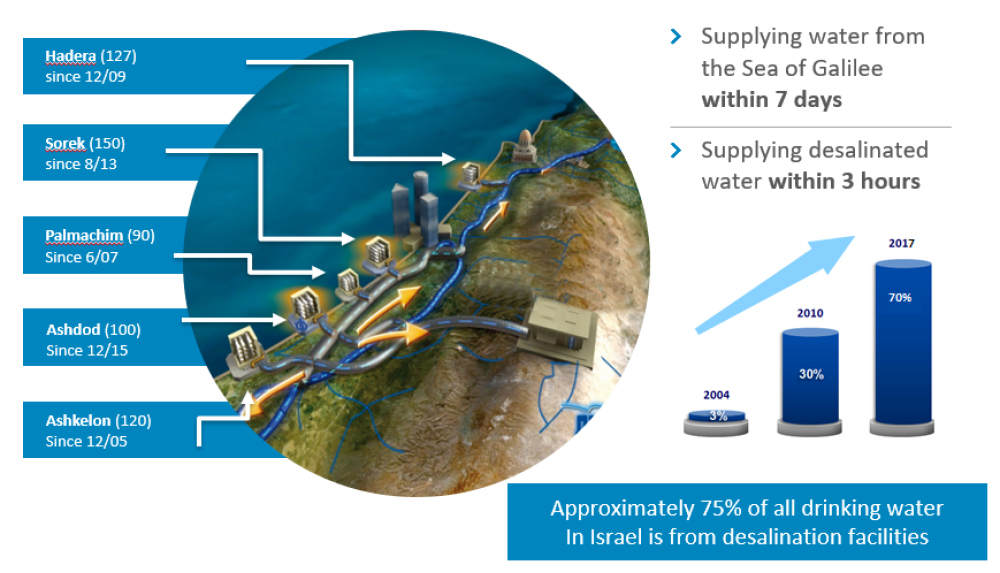 Thanks to creative renegades such as Zarchin and Loeb, the Israeli desalination story truly is a marvel on a global scale. It intertwines with the birth of a new nation, and brings together forward thinking, state-of-the-art technology and a tenacious refusal to surrender to adversity. The results of which are still evident in some of the world's largest and most advanced desalination plants, and continue to be a major part of the company's DNA.
Contact a desalination expert now to find the right desalination solution for you.
Don't Miss Out on IDE's Latest stories